When is the right time to consider home care for my loved one?
There are countless signs & symptoms that are as personal to the individual as the people who ask themselves this question. In almost all cases, there are "trigger events" or occurrences that signals a greater need for assistance – both for the client, family and friends who may be increasingly challenged by the increased responsibilities of providing the required care and support. Of course with the increased level of family assistance required to care for an older family member so does the level of stress associated with it. Time, vigilance, reminders, safety, worry and concern are all real things… we as loving family members worry about.
Clients are also concerned about the potential burden they may have become on those family members and friends who spend considerable time to ensure their well-being and safety. However, clients are also  concerned that opting to going into a nursing home they will lose their social status, individualism, freedom, dignity and independence.
The best of both worlds is Home Care. It mitigates all the worries & concerns while preserving and enhancing their social status, individualism, freedom, dignity and independence. Best of all they stay in the home they know and love.
Here are just a few typical
"

trigger events

"

to watch for:
Losing a driver's license and the freedom to get around
A fall that results in reduced mobility or fear of reoccurrence
A hospital stay or procedure that results in the need for temporary care during the healing process
An event whereby the person seems to forget where they were and or how to get back home
Personal appearances (grooming & dressing) do not quite match their former selves
Food stocks in the refrigerator are not what they used to be & expiration dates on food items are overdue
New fear of being left alone
Social disengaged with family and friends (perhaps trying to hide some areas of potential concern)
Declining health and or forgetting to take prescribed medications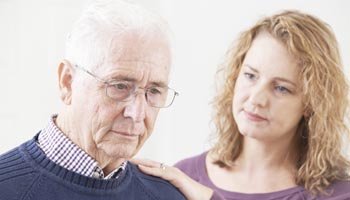 "

Each person is an individual and is entitled to continue to maximize their abilities as a member of society.

"
In other cases, it's more gradual. You may notice subtle changes that are also concerning, such as:
Reduced attention to personal appearance
General neglect to the upkeep of their personal living space
A decreased attention to food safety (using foods beyond expiry dates, etc.)
Forgetfulness – missing meals, medication times, appointment, or forgetting to pay bills
Depression, avoiding social events or contact with others.
In addition to being aware of a loved one needing more care, it is critical that family and friends be aware if they themselves or other family caregivers are showing the signs of emotional or physical exhaustion of providing that care.  That is where we "In Our Care" are available to provide whatever support is needed for the whole family – anything from a few hours a week relieving a family caregiver, to daily care for families that require greater support. You know mom or dad…or both need a little help around the house. Just because they are having a few problems, does not mean you have to move him/her somewhere else. Taking advantage of the variety of services available through "In Our Care – Home Care Services" may be all he/she needs to remain at home and in their familiar setting.
Non-Medical Home Care
| | | |
| --- | --- | --- |
| Eating | Continence | Errands |
| Bathing | Companionship | Hobbies |
| Dressing | Meal Preparation | Laundry |
| Toileting | Light Housekeeping | Shopping |
| Transferring | Medication Management | Transportation |
Enhancing Lives of our Loved One
Non-medical home care focuses on helping seniors with the daily activities they need to engage in to remain safe and healthy. Many seniors need help to get their day started with assistance showering, preparing breakfast and taking their medications. Likewise, help before bedtime, or even overnight, can be an important safety net for seniors at home who often are more apprehensive at nighttime. However, one of the most important needs of a senior who lives alone is often simple companionship. The companionship component of a professional caregiver's job can be just as vital as the physical assistance a professional will provide. Seniors need conversation and one-on-one contact to keep their minds alert. They can thrive with someone to participate in their favorite activities such as gardening, baking or woodworking, or someone to go to the grocery store or attend a concert.
A reputable non-medical caregiving company will provide caregivers who can meet all of those needs.
When Home Care is Needed
| | |
| --- | --- |
| Post-Op Rehabilitation | Wound Care |
| Occupational Therapy | Speech Therapy |
| IV Therapy/Injections | Mobility Training |
| Skills Assessments | Pain Management |
How Non-medical care differs
 from Home Health Care:
It used to be that a medical crisis could spell the end for seniors living in their own homes. But today, even older adults who suffer from chronic conditions or life debilitating illnesses can still remain at home. Advances in technology and life-saving equipment have kept many seniors at home longer and safer.
What's more, home health care agencies provide licensed medical professionals to go to an older adult's home, offering a wide range of medical and therapeutic services.
Convalescing at home can actually help some seniors not only survive but thrive. For instance, seniors with dementia may be less confused at home where they will more likely know where everything is located.
If your senior loved one requires care that requires a doctor's prescription, then you should contact a home health agency. Keep in mind, however, that home health aides generally are only authorized to perform the tasks described in the prescription. If your senior needs assistance getting to and from doctor's appointments, cleaning the house, or simply having someone to spend time with, you should contact a non-medical home care agency like "In Our Care – Home Care Services". Convalescing at home can actually help some seniors not only survive but thrive. For instance, seniors with dementia may be less confused at home where they will more likely know where everything is located.
The term home care describes two very different types of care:
Home health care provided by licensed medical professionals, for which you need a prescription.
Non-Medical home care such as personal care, homemaker or companionship services provided by professional caregivers.
In broader terms, home care that seniors require often revolves around the Activities of Daily Living (ADLs) and the Instrumental Activities of Daily Living (IADLs). These are provided under non-medical home care.
ADLs are basic activities and functions performed on a daily basis that are usually done without assistance. The six ADLs are:
        Eating
        Dressing
        Bathing
        Toileting
        Transferring
        Continence
IADLs, on the other hand, are those activities instrumental to our daily routines such as:
        Driving
        Preparing Meals
        Doing Housework
        Laundry
        Shopping
        Managing Finances
        Managing Medications
        Using the telephone / computer
Why Home Care?
A recent study found an overwhelming majority of seniors (86 percent) want to continue living in residence for as long as possible, and seniors appear to be willing to seek help to do that. The study also found that 54 percent of seniors who live alone are four times more likely to use professional care than those who live with their children. The users of in-home care tend to be older: 42 percent of seniors over the age of 80 rely on professionals.
Home Care Services Glossary
| | |
| --- | --- |
| Activities of Daily Living (ADLs) | Everyday activities such as (bathing, self grooming, eating, toileting, and dressing) |
| Acute Illness | A serious illness such as a heart attack or stroke that develops rapidly with pronounced symptoms. The illness can also be of short duration such as influenza |
| Adaptive Devices | A variety of devices that are used to increase, maintain, or improve the functional capabilities of individuals, providing the assistance needed to stay at home. These devices may help with vision, hearing, mobility, communication, or other needs, and include wheelchairs, walkers, touch-sensitive light switches, phone amplifiers, stair lifts, chairs with lifts, and computers. Also know as Assistive Devices |
| Aging in Place | Concept that advocates allowing a resident to choose to remain in his/her living environment despite the physical and/or mental decline that may occur with the process of aging |
| Ambulatory | Describes the ability to ambulate, walk around, not bedridden or unable to walk |
| Assessment | A process used by care managers to gather information about an individual to determine his or her functional needs and/or eligibility for services. Information collected may include health status, financial status, ability to perform activities of daily living, mental status, etc. |
| Caregiver | The primary person in charge of caring for an individual with care needs, usually a family member or a designated health care professional |
| Care Plan | The detailed formulation of a plan of action that addresses a client's needs |
| Case Management | A term used to describe formal services planned by care professionals |
| Chore Service | Chore services are semi-skilled home repairs and maintenance tasks performed to enhance the health and safety of the individual in the home. To help an older person live safely and comfortably in their own homes |
| Geriatric Social Worker | A licensed professional whose expertise enables him/her to assist the elderly and their family to understand and cope with the social, emotional, and psychological aspects of aging |
| Home Delivered Meals | Hot and nutritious meals delivered to homebound people who are unable to prepare their own meals and have no outside assistance. Also see "Meals on Wheels." |
| Home Health Care | Provision of prescribed medical and nursing services in the individual's home by a licensed provider |
| Homemaker/Home Health Aid Service | A trained person, working under supervision, providing personal care, household cleaning, cooking, grocery shopping, laundry, transportation, for an elderly or disabled person |
|  Home Support | Home support services help support the client's independence in his or her own home. Home support services are non-medical in nature and include meal preparation/ delivery, homemaking, home maintenance, transportations, security checks and friendly visiting, among others |
| Hospice | Usually a combination of at-home and hospital care of the terminally ill that combines medical and social services. It is designed to help both the patient and the family. Hospice care emphasizes pain control, symptom management, and emotional support rather than the use of life-sustaining equipment |
| | |
| | |
| --- | --- |
| Hospice Care | Care and comfort measures provided to those with a terminal illness and their families. It can include medical, counseling, and social services. Most hospice care is furnished in-home, while specialized hospices or hospitals also provide this service |
| Instrumental Activities of Daily Living (IADLs) | Day-to-day tasks such as preparing meals, shopping, managing money, taking medication, and housekeeping |
| Level of Care | Refers to the outcome of an assessment designed to determine the most appropriate setting for the delivery of long-term care to an elderly person |
| Long-Term Care | Provision of services to people of any age who are afflicted with chronic health impairments |
| Managed Care | There is currently no standard definition of managed care, but it can best be described as a combination of insurance and a health care delivery system. The basic goal of managed care is to coordinate all health care services received to maximize benefits and minimize costs. Managed care plans use their own network of health care providers and a system of prior approval from a primary care doctor to achieve this goal. Providers include: Specialists, hospitals, therapists, and home health care agencies |
| Meals-on-Wheels | Meals delivered on a regular schedule – such as daily, Monday to Friday, weekends, etc. – to housebound elderly or elderly people unable to cope with meal preparation, for little or no cost |
| Non-Ambulatory | Inability to ambulate, walk around, and usually bedridden or hospitalized |
| Occupational Therapy | Process to help individuals relearn activities of daily living, generally administered by a licensed therapist |
| Personal Care | Personal care services assist seniors with activities of daily living including eating, grooming, dressing, bathing, and incontinence care |
| Personal Care Assistance Program (PCA) | Personal care services provided through home health agencies and include personal care, bathing, meal preparation, assistance with activities of daily living (ADLs), and light housekeeping |
| Personal Emergency Response System (PERS) | Equipment that monitors the safety of older people in their homes through signals electronically transmitted over the telephone and received at an emergency-monitoring centre |
| Personal Support Worker | A personal support worker (PSW) is a Canadian health worker that provides care to those who are not fully able to care for themselves. This includes seniors, individuals with physical disabilities and with mental disabilities, amongst others |
| Primary Caregiver | The individual who has the main responsibility for helping an older person. This individual usually is the one who makes decisions and organizes care and services |
| Private Geriatric Care Managers | Specially trained in geriatric care management, geriatric care managers provide case management services on a fee-for-service basis to individual clients |
| Quality Care | Care and services that allow recipients to attain and maintain their highest level of mental, physical, and psychological function, in a dignified and caring way |
| Respite Care | Temporary relief from duties for caregivers, ranging from several hours to days. May be provided in-home or in a residential care setting such as an assisted living facility or nursing home |
About IN OUR CARE
With 25 years in the Long Term Care sector, we are aware of what clients require to sustain their personal independence, mental awareness & physical health. Our commitment is to provide you with the specific services you need, through a reliable & compassionate care team.
How to Contact Us
We are available and can be reached at any time 7 days a week/24 hours a day

905-785-2341 voliveira@inourcareservices.com

Or simply click on the Contact Us tab and drop us an email
Click on the Twitter & Facebook icons to visit our social media sites and stay connected with us.